The Global Partnership on Artificial Intelligence (GPAI) is a multi-stakeholder initiative which aims to bridge the gap between theory and practice on AI by supporting cutting-edge research and applied activities on AI-related priorities.

Built around a shared commitment to the OECD Recommendation on Artificial Intelligence, GPAI brings together engaged minds and expertise from science, industry, civil society, governments, international organisations and academia to foster international cooperation.
Launched in June 2020 with 15 members, GPAI is the fruition of an idea developed within the G7.

Today, GPAI's 25 members are Australia, Belgium, Brazil, Canada, Czech Republic, Denmark, France, Germany, India, Ireland, Israel, Italy, Japan, Mexico, the Netherlands, New Zealand, Poland, the Republic of Korea, Singapore, Slovenia, Spain, Sweden, the United Kingdom, the United States and the European Union.
2nd GPAI Summit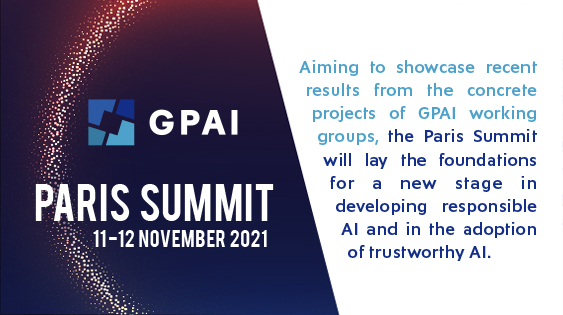 11-12 November 2021
Paris, France
Leading international AI experts from civil society, academia, industry and governments, including ministerial-level delegates from GPAI's membership, will come together on 11-12 November for GPAI's annual event. See the programme.
This important occasion offers GPAI experts and member governments to showcase recent developments from GPAI working groups in order to discuss how their collective efforts can be best harnessed to advance the responsible development and utilization of this technology.
Aiming to engage external partnerships as well, this public-facing event will include reporting on ten working group study topics from the 2021 work plan, as well as additional reflection sessions facilitated by France as the host country.

About us
What is GPAI?
GPAI provides a mechanism for sharing multidisciplinary research and identifying key issues among AI practitioners, facilitating international collaboration and promoting the adoption of trustworthy AI.
Read more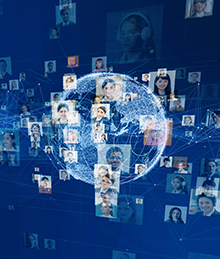 Community
Who is involved?
GPAI fosters global cooperation, bringing together leading experts from around the world to build on existing work done domestically and internationally.
Read more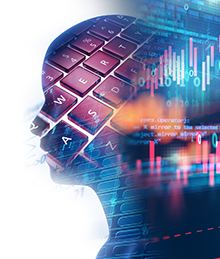 Projects
What do we do?
GPAI assesses the scientific, technical and socio-economic information relevant to understanding AI impacts in order to encourage its responsible development and mitigate potential challenges.
Read more